Power Wagon Events Calendar - updated as rallies are scheduled
---
2022 Rallies
---
Texas Power Wagon Reunion - April 28 - May 1
Alright guys the dates for the 2022 Texas Power Wagon Reunion have been solidified as April 28th through May 1st in San Angelo TX. Accommodations can be found at Spring Creek Marina. They have RV spots and cabins. The adjacent park has primitive camping. $6 entry fee to park per vehicle for non residents. You will also have to have the limited public use permit to enter the Twin Buttes recreation area where we will be doing most of our exploring. Every person in the vehicle needs to have this permit or game Wardens will ticket you. They are $12 and can be found at our local Walmart or academy stores. There are also several hotels within a few miles down Knickerbocker Rd. There will be plenty of space to park trailers in the nearby park or if you'd like something more secure, I have plenty of space behind a locked fence about 25 minutes away. Let me know if y'all have any questions.


Lloyd Bluntzer [email protected]
---
2022 Gordon Maney Memorial Dodge Truck Reunion - June 8 - 12
The 2022 Gordon Maney Memorial Dodge Truck Reunion will be held in Fairfield Iowa June 8th through the 12th. The Fairgrounds are reserved the 6th through the 12th. Food vendors will be paid directly, and don't forget the Best Western is still closed. Wed through Saturday night I have the majority of everything finalized. Pizza night at the Elks, Iowa chop feed at the Fairgrounds, and Rolling Cravings food truck are all scheduled. There will be a parade Saturday morning to the square. Please if you have any questions, contact Matt [email protected] directly. Many updates will be happening, and a registration page is in the works at https://powerwagonadvertiser.com/
Fairfield, Iowa

---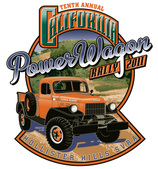 California Power Wagon Rally - June 24 - 26
California Power Wagon Rally - June 24 - 26, Hollister, CA - Hollister Hills State Vehicular Recreation Area.
Come on out and be part of the "Best in the West"
Located in the Gabilan Mountains, just an hour's drive south of San Jose, the California Dodge Power Wagon Rally is a vintage truck meet, held annually at the Hollister Hills SVRA. Rally events include reserved camping with registration, catered dinner on Friday and Saturday evenings, continental breakfast each morning, raffle drawing, silent auction, slide show, truck awards in multiple categories, event t-shirts and complimentary firewood. Pack your camping gear and prepare to surround yourself with timeless vintage trucks, delicious food and excellent company in an ideal setting. Nothing beats a weekend among old and new friends at the Hollister Hills Dodge Power Wagon Rally.
See the link below for registration information, past year's pictures and other info. Don't forget to take a look through the online store for the California Power Wagon Rally memorabilia.
Look forward to seeing you there. If you have any rally questions please send us an email. Register by the end of March and get 5 free raffle tickets!
California Power Wagon Rally Website
---
Berkshire Mountain Power Wagon Rally - August 26 - 28
Berkshire Mountain Power Wagon Rally, August 26 - 28
Fraser's Farm, 80 Devon Rd., Lee, Massachusetts
More details to follow

Contact: Dave Fraser, 603-493-4083 email [email protected]
Hotel and B&B info

Pictures of past Lee rallies:
https://imageevent.com/terryandlinda/lee2007
https://imageevent.com/terryandlinda/lee2005

---
-->
18th Annual Mid-Atlantic Power Wagon Rally - October 7-9
18th Annual Mid-Atlantic Dodge Power Wagon Rally
October 7-9, 2022
Our 18th annual gathering will be held October 7-9 at Blackwater Falls State Park in Wild & Wonderful West Virginia. We have reserved a block of lodge rooms at a group rate of $110 per night plus tax. Lodge rooms are king, queen, or queen and one twin. The room block will be held until September 1st. If you want to reserve a lodge room, please call the park directly at (304) 259-5216 and tell them you are with the "Dodge Power Wagon" group. Plenty of other lodging options in the area.
RSVP
Dave Horvath: [email protected] (304) 826-0721

---