Power Wagon Events Calendar - updated as rallies are scheduled
---
2023 Rally Schedule
---
Texas Power Wagon Reunion - April 13 - April 16
The 2023 Texas Power Wagon Reunion will be held on a private ranch northwest of Johnson City. Come join this informal meet-up of Dodge 4x4 enthusiasts for a weekend of trail rides, camaraderie, and parts swaps. Primitive camping available on site, or check out hotels or rentals in Kerrville or Johnson City. This is a gathering of friends old and new, so there will be no admission fee, but we will gladly take donations for Lloyd's breakfast feasts and the cost of the porta-potty.
For more info contact [email protected] 512-415-2994.
Turn south off of 1323 on Victor Stahl Road. Pass through one gate, then cross under a power line going to the well. Then turn left to the well, that is our campsite. The coordinates are 30.3866136,-98.5727707. Site will be open 12:00 Thursday – 12:00 Sunday. .
---
2023 Gordon Maney Memorial Dodge Truck Reunion - June 5 - 11
The 2023 Gordon Maney Memorial Dodge Truck Reunion will be held in Fairfield Iowa June 5th through the 11th.
Links to registration
Full weeks Registration
https://checkout.square.site/buy/KUVMYQFLVUXVPZUGVFU6RGEK
Daily Registration
https://checkout.square.site/buy/NWOO6CBZKVEKAIR35WLGJARU
Camping Registration
https://checkout.square.site/buy/SL3HWLYDFIEJQG2E2GMRMISG
Pork Chop Meal Registration
https://checkout.square.site/buy/TVKRIIPZKSQ5N66WY3VUXGDV
Any other questions, please contact Matt [email protected]
Please all, see the above links for 2023 Iowa Reunion Information!

June 5th through the 11th
Monday and Tuesday is early arrival day
Wednesday through Saturday we will have trail rides, Parade on Saturday morning food vendors at the fairgrounds
Pto driven corn shelling demo.
A tutorial on Open Cab WM300 and M601s and more to be added.
Feel free to email me with any questions!
Thanks all
---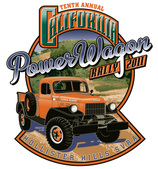 California Power Wagon Rally - June 23 - 25
California Power Wagon Rally - June 23 - 25, Hollister, CA - Hollister Hills State Vehicular Recreation Area.
2023 California Dodge Power Wagon Rally June 23-25, 2023 Hollister, California
Come join a fun weekend of vintage trucks and great people! Check out the Rally website for more details and registration info!
https://www.dodgepowerwagonrally.com/
---
Slate Valley Power Wagon Rally July 28 - 30
A​ ​weekend​ ​long​ ​event​ ​for​ ​fans​ ​of​ ​vintage​ ​Dodge​ ​trucks
The Slate Valley Power Wagon 2023 Rally - Friday, July 28th - Sunday, July 30th, 970 Danby Pawlet Rd, Pawlet, VT 05761
Check us out on Facebook! Slate Valley Power Wagons
Or Email
[email protected]
for more information
​ ​ ​ ​ ​ ​
​Classic​ ​and​ ​Vintage​ ​Dodge​ ​Trucks​ ​on​ ​display Friday - Sunday
Limited Edition Rally T-Shirts available for purchase
Come when you can - There is always something happening! Stop in one day or stay the weekend!
Come Join the Fun! YES - There will be mud!
Great Trucks, Great People!
Everyone MUST register with the check-in station upon arriving at the rally. Plenty of on-site parking for trailers
WEEKEND​ ​ADULT​ ​MEAL​ ​PASS​ ​-​ ​INCLUDES​ ​ALL​ ​MEALS​ ​​ ​$25
Meals​ ​may​ ​also​ ​be​ ​purchased​ ​separately​ ​-​ ​Kids​ ​10​ ​&​ ​under​ ​eat​ ​free​ ​with​ ​a​ ​paying​ ​adult
Onsite dry camping available or shack up in one of the near-by motels
Lodging available - Granville, NY - About 8 miles from rally site
Pine Grove Motel
4 Montray Pl, Granville, NY 12832
Phone: (518) 642-4627
Additional links for lodging - Dorset is about 8 miles away and Manchester is about 15 miles away
SCHEDULE​ ​OF​ ​EVENTS
*All times are approximate and subject to change*
Take​ ​some​ ​time​ ​to​ ​walk​ ​around​ ​and​ ​check​ ​out​ ​the classic​ ​and​ ​vintage​ ​Dodge​ ​trucks​ ​on​ ​display
Friday Come when you can - Dinner is on the grill waiting for you! Grab a seat at the table, enjoy the evening and get to know the folks!
Music starting at 7pm - Bring a lawn chair and cozy up to the firepit
Saturday
7-9am Breakfast served - Enjoy hot coffee, juice, eggs, Bacon, Sausage
11:15am Blessing of the trucks
Power Wagon roundup/display Lunch provided (Hot dogs, Hamburgers, salads, chips, drink)
12:15 - Line up for Trail Ride
12:45pm First stop before the trail ride to enjoy a little break and check out some of the trucks set up At our static display area - Anyone who does not want to continue on the trail ride may return to the rally site from here
1:15pm Trail ride - Gonna do some back roadin' and enjoy the scenery along the way. Expected to return to the rally sight approximately 4:00pm (Breakdowns MAY delay that slightly…..)
5:30pm Chicken BBQ with all the fixins'
Over​ ​$2500​ ​in​ ​prizes​ ​to​ ​be​ ​raffled​ ​off​ ​Saturday​ ​night!!​ ​Tickets​ ​are​ ​$1​ ​each​ ​or​ ​7​ ​for​ ​$5 (must​ ​be​ ​present​ ​to​ ​win)
Live music Bring a lawn chair, your drinks and put on your dancin' shoes!
Sunday
7-9am Breakfast served - Enjoy hot coffee, juice, pancakes, eggs, Bacon, Sausage
Stay for awhile, enjoy the rally!
15th Annual Graves Mountain Military Vehicle and Vintage 4x4 Trail Rides! August 30 - September 4, 2023
Labor Day Weekend
15th Annual Graves Mountain Military Vehicle and Vintage 4x4 Trail Rides and Rally
Labor Day Weekend, August 30 through September 4, 2023
(early arrivals are ok, just let me know...).
A fun filled weekend of trailriding, parts-swapping, and fellowship in the Blue Ridge Mountains of Virginia open to all Military Vehicles and to Civilian Vehicles 25 years old and older. Newer vehicles may be allowed by permission of the organizers.

For More Event Information and Registration, See: https://gravesmountaintrailrides.com/

Cabell Garbee
7104 Lake Wheeler Road
Raleigh, NC 27603
919-906-6294
[email protected]
---
18th Annual Mid-Atlantic Power Wagon Rally - October 7-9
18th Annual West Virginia Dodge Power Wagon Rally
October 13-15, 2023
19th annual West Virginia rally will be October 13-15 at North Bend State Park. Day trips planned to Parkersburg and a stern-wheeler trip to Blennerhassett Island on the Ohio River and road trip to the Trans-Allegheny Lunatic Asylum in Weston. We have reserved a handful of cabins. Lodge rooms are also available. Contact me at [email protected] if interested.
RSVP
Dave Horvath: [email protected] (304) 826-0721

---