Engine Pre-luber
---
Thanks to Dave Langford, Derek Olson, and Bob_K on the Pilot-house.com forum
Dave Langford posted some time ago about an engine pre-luber for a rebuilt engine to use before starting it for the first time, using it on his rebuilt 230 to develop oil pressure before it was started. This helps ensure that the engine is not damaged by slow flow of oil to all the internal components by relying on the oil pump to do it very quickly by itself.
Derek Olson over at the Job Rated site was motivated by Dave's posting, and came up with a superior concept which needs NO drilling or welding. Bob_K took Derek's concepts, and came up with a conceptual drawing that shows the workings of the pre-luber and added a materials list.
Below is the drawing of the tank upright with no modification required. The two tees right out of the tank are 1/2" black iron as well as the elbow on the right and all nipples. The ball valve on the right is 1/2" brass and I found it is easy to get a plastic funnel close enough to self thread into the valve tightly. Use a 1/2" x 1/4" black bushing on the left tee then use 1/4" black pipe fittings to finish the assembly as shown. Pressure gauges are readily available in 1/4" npt as well as the air compressor fittings. The hose barb at the top for the "oil out" is 3/8" hose barb by 1/2" male pipe with a piece of 3/8" O.D. soft copper soldered into it for a dip tube.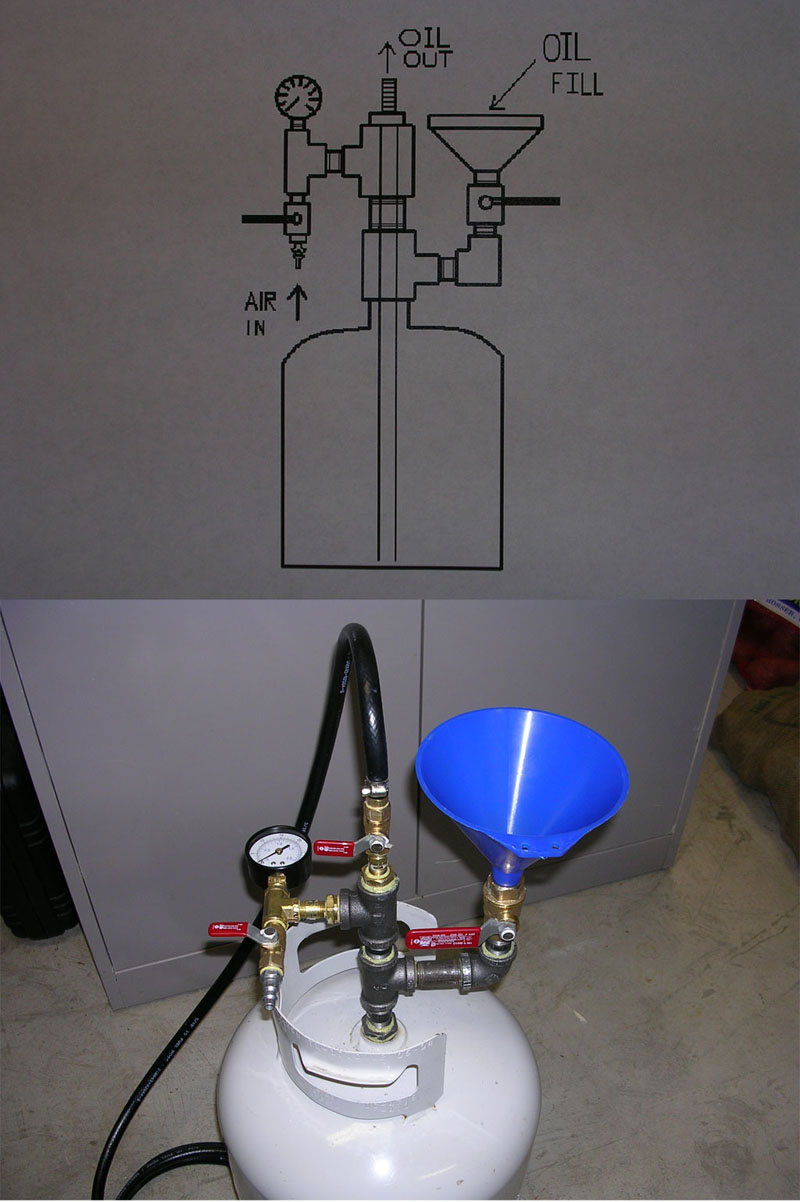 ---