Power Wagon Events Calendar
---
2017 Rallies
April 27 - 30, - 22nd Annual Southern Dodge Power Wagon Rally - Mount Juliet,Tennessee
June 5 - 11, - 30th Annual International Dodge Power Wagon Rally - Fairfield Iowa
June 23 - 25, - California Dodge Power Wagon Rally, Hollister California
August 18 - 20, - Slate Valley Power Wagon Rally - Pawlet, Vermont
August 31 - September 4, - 9th Annual Graves Mountain Rally - Syria Virginia
---
22nd Annual Southern Power Wagon Rally - April 27 - 30
22nd Annual Southern Dodge Power Wagon Rally
Mount Juliet,Tennessee
davidrustie@bellsouth.net
David Bizzell 615-330-1916
---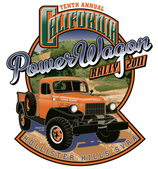 California Power Wagon Rally - June 23 - 25
California Power Wagon Rally - June 23 - 25, Hollister, CA - Hollister Hills State Vehicular Recreation Area.
Come on out and be part of the "Best in the West"
California Power Wagon Rally Website
Rally Registration Form - Click Here
---
Slate Valley Power Wagon Rally August 18 - 20, 2017
The Rally is being held Friday, August 18th - Sunday, August 20th and is being hosted by the Covino family
The Rally location is 57 Route 30, Pawlet, Vermont 05761
There is ample room for camping, however - there is a SMALL motel about 3 miles away with 5 rooms available, so I would advise folks to book rooms early. 
Rally Events (more to follow) are listed below;
Camping
Breakfast/Lunch package available
Rally T-Shirts available for purchase
Vendor area
Power Wagon Parade into town, and a roundup/display that is open to the public
Trail rides
Live music throughout the weekend, and a DJ on Saturday night
Pig roast Saturday night, followed by a bonfire and the raffle of items
Should anyone have questions, please direct them to Patty Covino, or to my brother Tom Covino.  
Patty Covino Contact Information  Cell  (518) 728-2468 or Home (518) 642-9298 or Email  marcandpattykretzer@gmail.com
Tom Covino Contact Information   Cell (518) 944-1032 or Email  TCovino@hotmail.com
9th Annual Graves Mountain Rally August 31-September 4, 2017
Graves Mountain Lodge
Rt. 670
Syria, VA 22743-9999
Phone: 540-923-4231 -- Fax: 540-923-4312

Cabell Garbee
7104 Lake Wheeler Road
Raleigh, NC 27603
919-906-6294
cgarbee@ipass.net
---